Introducing the new standard of latte.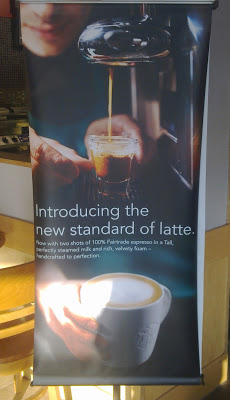 My thinking is that the new standard of latte might be not too far removed from the old standard of latte, which means for three quid you'll be the recipient of an over-frothed watered-down airy cup of liquid tenuousness that would make Giuseppi from La Casa Del Caffè Taza D'oro a mere stone's throw from Il Pantheon spit out his triple ristretto.
But why keep going on about Starbucks bro?
I can think of four reasons.
Firstly this absolute honey works in my local and unlike most of the people who populate the Starbucks environ she smiles once in a while and could probably walk in straight line without falling over if you asked politely.
Secondly I like the bottles of iced coffee frappuccino they sell.
Next up without the sour the sweet can never be so sweet, and spending all of five minutes in there every morning brightens up my day in the knowledge that things can't get that much worse.



Last but by no means least, what other coffee house can lay claim to caffeinated libations expertly served up by Super Heroes.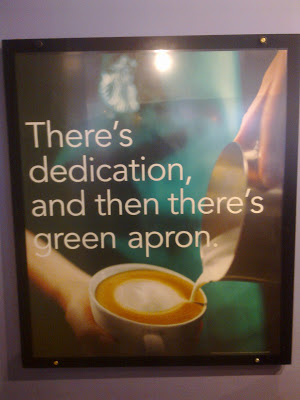 t h e

g r e e n


a p r o n