I was late to the party, now I don't want to leave.
I was home, must've been 9ish. Weeknight, early April. Lighting was tight, the mathmos mood lamp glowed softly from the table-top. I decided on a whim to put Revolver on, it'd been years. On came Taxman. One twoooo threeee fuoooorr. Daaa da bom-ttsch daa dah dah. Something happened. On it went, Eleanor Rigby, I'm Only Sleeping, Here There Everywhere, She Said She Said.
It took me over, flooding me.
I flipped the record in a haze. By the time the fugue-guitar of And Your Bird Can Sing hit my earhole I was possessed. Standing there in the centre of the room, swaying, eyes the size of tennis balls, holding a can of beer my Revolver-shot brain was incapable of registering.
Apart from Kiss Me Kate and story tapes we had one cassette in the car growing up. Some say Revolver is the greatest album of all time; no bad music education for my bro and I, sat in the back of a Vauxhall hatchback cruising country lanes watching the 80s give way to the 90s. We knew it by heart.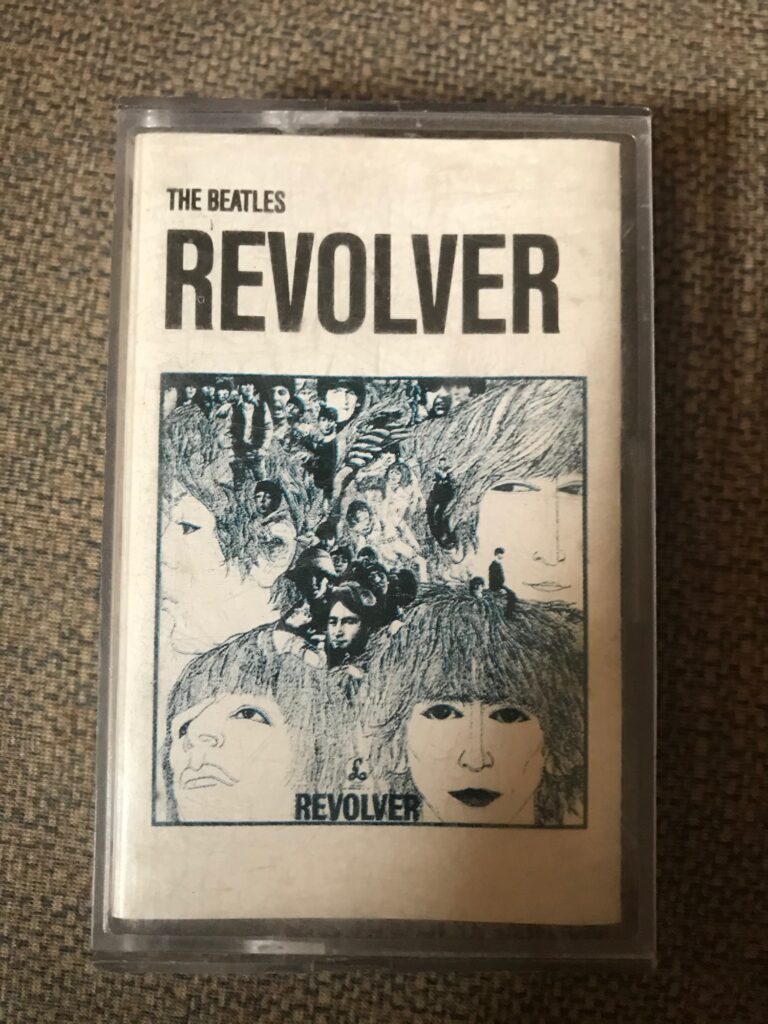 Classics aside, my Beatles knowledge stopped there. What had I been doing. Before the night was out I'd got through Sgt. Pepper's twice, ordered Rubber Soul on vinyl, and read the Wikipedia entry, all 15,892 words of it. For the last 33 days I have listened to nothing else. Not a single tune. I can't manage to.
*
The late spring of 2022, as the jasmine snuck through the open window filling the flat, will be always now my Beatles days. I figured one of two things. My friends were on holiday, or they no longer liked me, for that month of April all I did was sit on the floor with my back to the radiator listening through, album by album. Learning the different sides, the progression of songs, the story lines, seeking out podcasts in the day for context, once I had an album sussed, I'd move onto another.
I began to time travel.
It was the sixties, poster of Paul on my wall, inhaling Beatlemania, waiting for any mention of them in newspapers, on the radio. Fanzines in the post. New Musical Express. May 26th, 1967, the day Sgt. Pepper's dropped. Queueing at Her Majesty's Voice.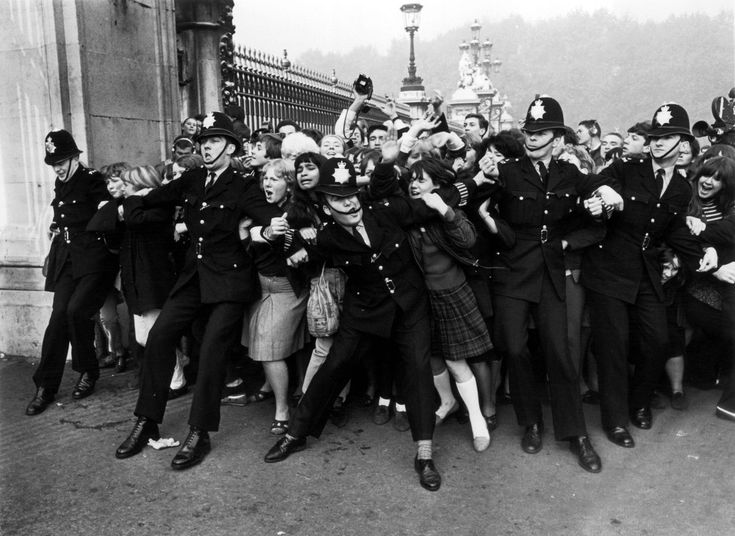 Cycling home, shutting the door. Putting the needle on, listening to the whole thing through, once, twice, a third time. Hearing the orchestra crescendo of A Day In The Life.
Feeling my world shift on its axis.
Jump forward 55 years, same thing different date, Rubber Soul, Magical Mystery Tour, Abbey Rd, Let It Be, complete attention, feeling my brain flip, arm hair stand on end, tracing the story of this musical miracle, thinking about Rick Rubin's line.
That they managed all that in 7 years is proof of the existence of God.
What was most nuts was imagining how me back in the 60s would consume music. All the waiting. Waiting on news, sitting alone, with a pal, going over the same album, start to finish, again and again, listening parties, writing my name on the record, taking it to someone's house, getting it back at the end of the night, the walk back, smiling, songs sounding out in my mind.
Imagine having that experience, I thought, the anticipation, the expectation, the wonder, the space to think, the revery. The dance of wanting something and having to wait for it. Sat back against the radiator, grinning. Do we get that anymore. Do we know how to wait, I wondered. Does our culture let us wait for things.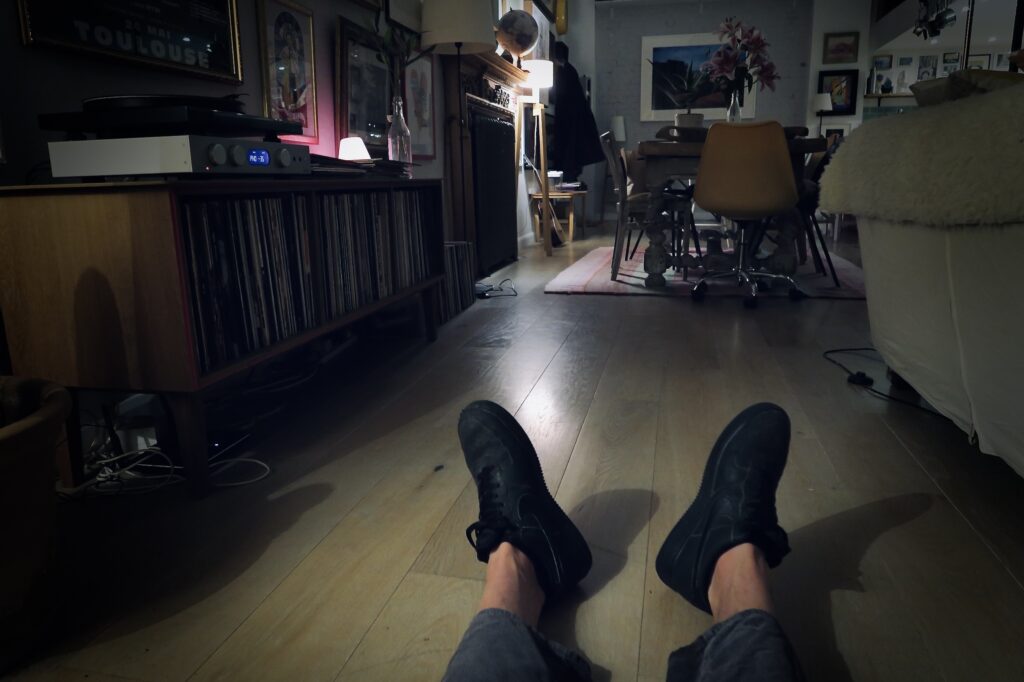 A guy called Johan Hari wrote a book this year called Stolen Focus, about a generation of people who can no longer concentrate on anything. Dwindling attention spans, he said, weren't just down to willpower, it was an all-out assault on our senses by big-tech and beyond. To serve their own means by matrixing us up to the mainframe, feasting on our attention.
What emerged was the internet as a kind of God, where attention was worship, at the deftest click of a button. What hope did we have, in the face of what a 2003 David Foster Wallace termed 'too much good stuff'.
My time-travelling did one thing above any. Journeying back, imagining what it would be like to hear these songs for the first time, I filled in the gaps around me, and lived that life, a life of pauses, of boredom, of room to think and feel and wait. What did that kind of space open up for me. What did life, in 2022, without any of that space, wall me off from.
THE BOX
Johan Hari said another thing. Without the help of a box he wouldn't have been able to write his book. Every morning he put his phone inside a perspex box and set the timer for four hours. The lid locked, for that time he had uninterrupted access to whatever he was writing. No texts, no emails, no temptation.
It came in the post, sat on the table for a few days unopened. On a monsoon-April morning landlocked at home I thought fuck it, opened it, stuck the batteries in, and unplugging my wifi lead from the wall I put it in, setting the timer for 3 hours. Looking at it there on the table, I didn't think much. Only how it wasn't going to win any design awards any time soon.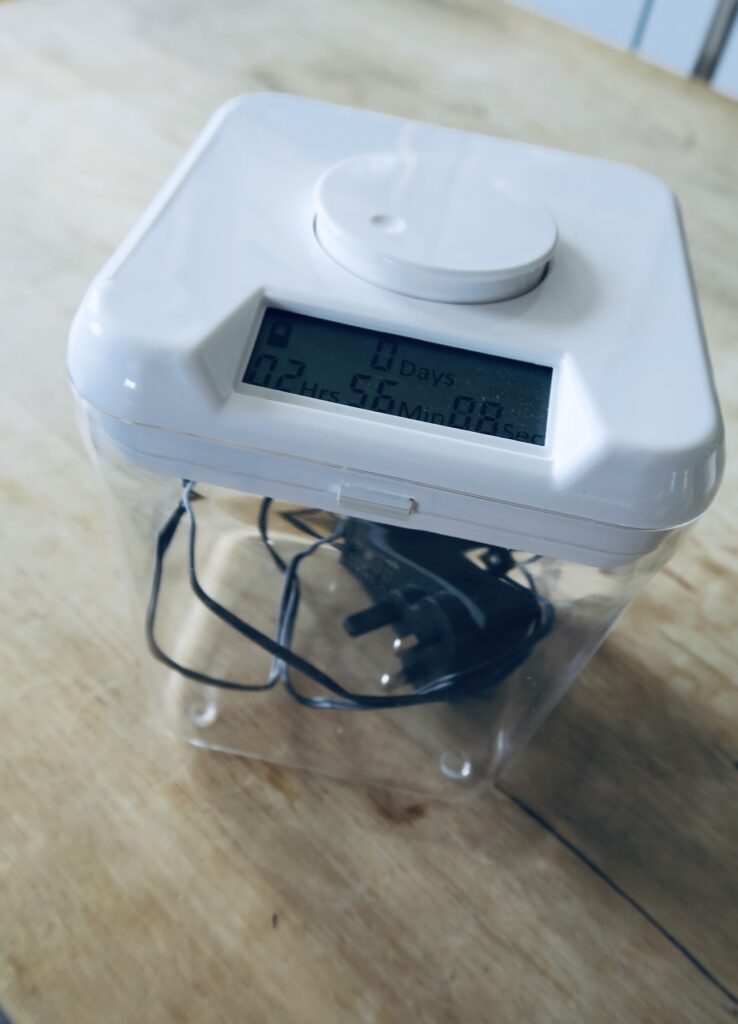 I set about trying to write. When my attention waned, it searched for a rabbit hole and found nothing. I pottered. Made a coffee. Stared out of the window. And out of boredom I simply began to write again. What was this strange sorcery. On it went, for hours. And as it did a peace began to descend. One I hadn't felt for ages.
It became my ally. I'd have it on most days, five hours or more. The difference in forcing myself not to look at bullshit, and having no access to it, was cavernous. Obliging me to work in a way my willpower couldn't get me to. Without this itch to scratch my brain began to calm. One day, for want of anything else to do, I sat in front of a lily for ten minutes, waiting to see if it would open, and it felt meaningful, just me and some flora, vibing out.
To make a prairie it takes a clover and one bee,
One clover, and a bee.
And revery.
The revery alone will do,
If bees are few.
Emily Dickinson
Foster Wallace described the moment when we finally find ourselves alone, and the dread that comes with that, that comes to us when we have to be quiet. It seems significant we don't want things to be quiet anymore, he said.
At the same time there is another part of us that is the opposite. That is hungry for silence and quiet, and thinking very hard about the same thing for maybe half an hour or more, rather than just thirty seconds. Of standing and looking at the branches of a tree, or listening to the birds. And this part of us doesn't get fed. And what happens is this thing makes itself felt in our bodies, as a kind of dread, deep inside us.
*
I didn't want to write something tired on how the internet is bad. More a story about imaging what life was like before we had to field this all-out attack on our attention. Memes, emojis, dissemination of information, zoom meetings, google earth, Conspiracy Keanu, the world would be a poorer place without it all.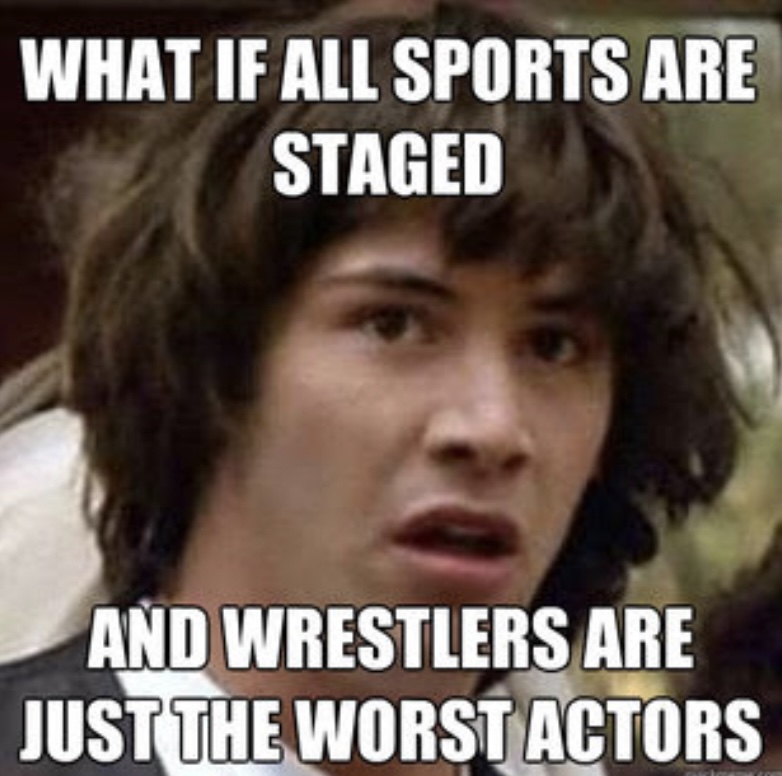 I once heard an advertising CEO say before a throng of students (of which I was one) how life was fundamentally richer now online than off. That is a mad statement. That is Bladerunner bullshit. Nothing I read or watch on the internet can make me as happy as long meandering conversations or looking into someone's eyes or cycling for hours to sit by a stream and eat Emmental.
When things get smarter and more shiny we run towards them without thinking what we might be leaving behind. My Beatles odyssey made me deeply jealous of 60s kids growing up with all that space to sit in. It made me worried I was losing touch with emotions I could only access by switching off. Because they would only come inside the space that pause granted me.
Music is not in the notes, said Debussy, but in the silence between them. Memory, saudade, the Brazilian word for deep longing and nostalgia. To want, to really want something. To think about it til it drove me nuts. Could I really plumb those depths with constant interruption from another update on some pointless evanescent newsfeed.
*
We're going have to develop some real machinery inside our guts to turn off pure unalloyed pleasure. Because the technology is just going to get better and better, and it's going to get easier and easier, and more convenient and more pleasurable to sit alone, with images on a screen given to us by people who do not love us but want our money. And that's fine in low doses. But if it's the basic main-staple of our diet, and I say this in a very meaningful way, we're going to die.
David Foster Wallace, 1998
*
After working my way through both sides of the White Album and listening to Abbey Rd til the needle bled, I felt the ardent fire of my Beatles days begin to dim. Listening to new music was difficult, there was no harder act to follow. Revolver remained my favourite, just. My mate Tommy told me not to worry, that before long I would be back there. I would have another Beatles moment. It would all be as new as ever.
Sitting there against my radiator one night I tried to put it all into context, and I ca-…
Fuck it.


enough
STOP.



THIS MADNESS.



YOU.



YOU ARE GOING TO DIE.



PUT THE DEVICE DOWN.



THROW THAT SHIT OUT THE WINDOW.



LOOK THEM IN THE EYE.



TELL THEM.



RUN.



TO THE WOODS.



GO.



GO TO THE WOODS.



GO TO THE WOODS.



GO TO THE WOODS.



GO TO THE WOODS.



GO TO THE WOODS.



GO TO THE WOODS.



GO TO THE WOODS.



GO TO THE WOODS.



GO TO THE WOODS.



GO TO THE WOODS.



GO TO THE WOODS.



GO TO THE WOODS.



GO TO THE WOODS.



GO TO THE WOODS.



GO TO THE WOODS.



GO TO THE WOODS.



GO TO THE WOODS.



GO TO THE WOODS.



GO TO THE WOODS.



GO TO THE WOODS.



GO TO THE WOODS.



GO TO THE WOODS.



GO TO THE WOODS.



GO TO THE WOODS.



GO TO THE WOODS.



GO TO THE WOODS.



GO TO THE WOODS.