It has already been written.
So said a Bangladeshi taxi driver the other evening. So said the M&S security guard yesterday morning, spying my Argentina scarf walking through the electric doors. So said Zlatan, the great Swede, before even the quarterfinal stage. This is Messi's time, he said. It is already written. Prophecy, in a post-enlightenment world, is the stuff of the loony bin. But something is in the air. A prophetic energy.
It is palpable.

*
The beautiful game, they call it.
I'm yet to be convinced.
I'm obsessed with football. And it bores me.
Nothing saps your soul harder or faster than sitting through a Sky Sports Super Sunday marathon in the fading light of some idle October afternoon. Nothing is less inspiring. Football is a bad spectator sport. Unless, that is, all of human emotion is on the line. Enter the World Cup. The most watched global event by a country mile brings the entire world to a standstill for a month every four years.
In the morass of those few weeks the planet itself stops spinning for a few seconds to peek.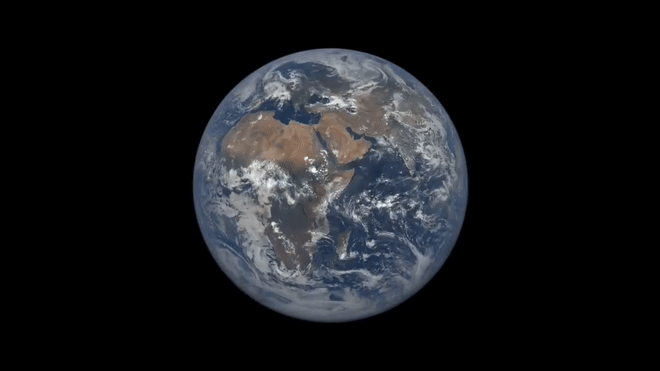 Tomorrow is the final. My country, half my blood, for some reason the whole of my footballing passion, is playing. And in that team, probably the greatest genius to kick a ball plays his final World Cup match.
La pulga atomica, the atomic flea, the enano, cementing himself as the best player of all time by lifting the greatest trophy of them all on Sunday, is starting to feel more like destiny. The material world playing out something prefigured in the heavens. If it has already been written then Mbappe, France's modern day d'Artagnan, turning up trumps to score a hat-trick on Sunday might not even matter that much.
Maybe.
*
When Argentina won the World Cup in '86 I was barely three and all I remember is going outside to throw loo-roll off the balcony down into the ecstatic streets of Buenos Aires. Plumes of white trailing away from my fingertips into an abyss. It was my first memory.
It must've marked me. Whenever they play a World Cup I go into a month long anaphylactic shock. If England play Argentina and England score, I die inside. I can't explain it. It's deep. I feel very little for the Three Lions. When Kane skied that penalty a week ago I felt for him as a Spurs fan, not much else.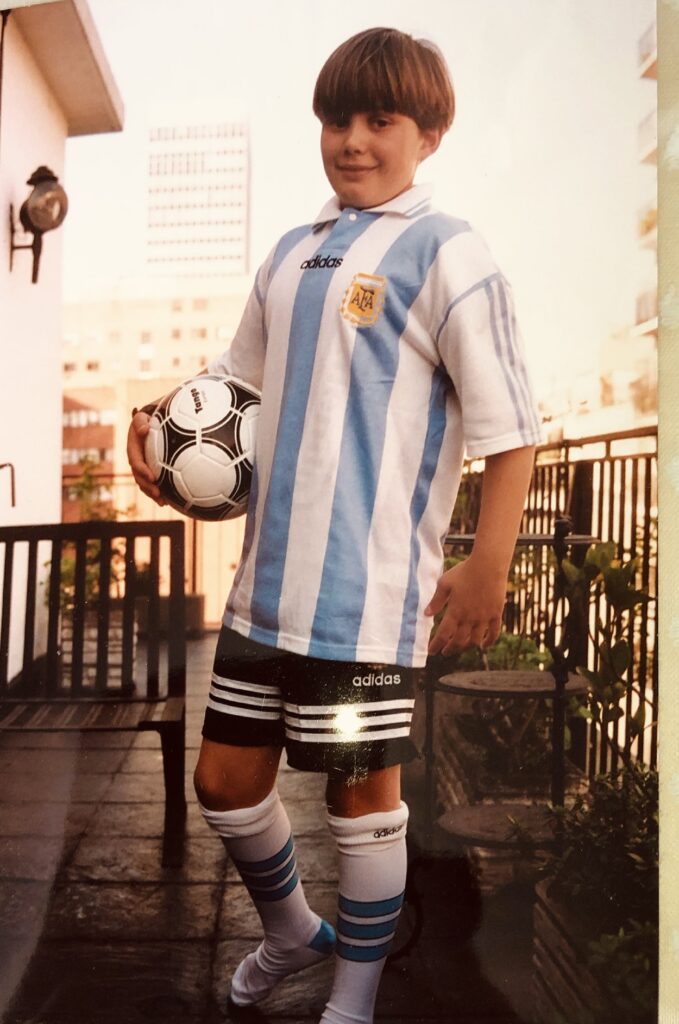 Last month as the midwinter turned bleak and my mood followed suit, and I had no mind to write anything at all or feel much joy, my lifeblood became the football. I got obsessed. After each game I would potter to my wallchart and fill it in.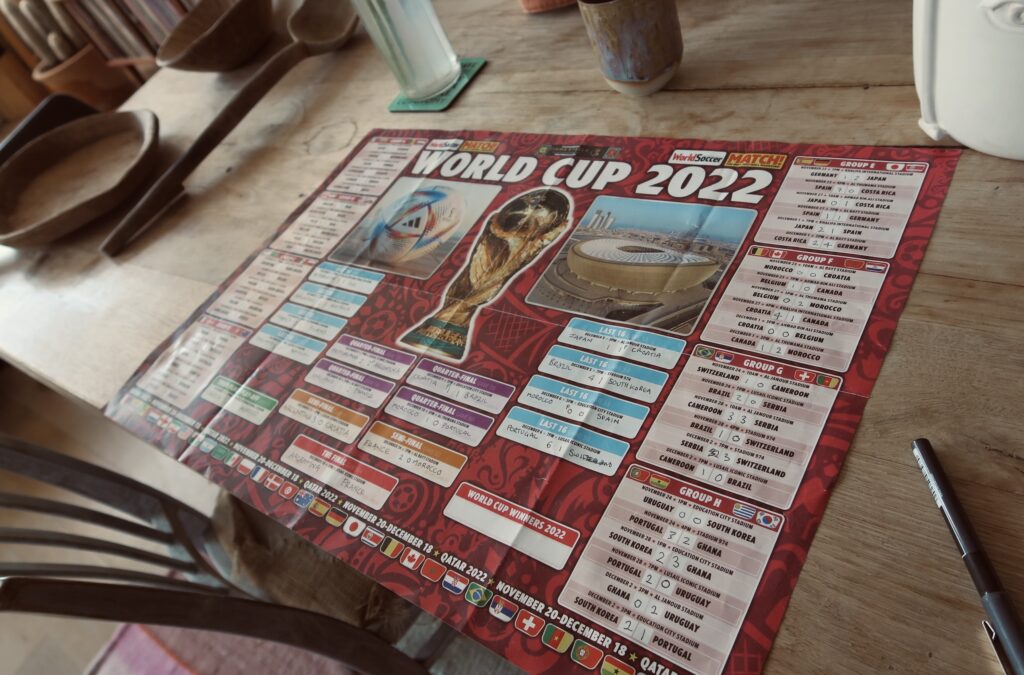 The narratives and subplots. The clash of footballing cultures. German precision, the joga bonito of Brazil, the tiki taka of Spain, England's stellar new generation, the French superstars. Morocco getting to the semis. North Africa going wild. The tension of the group games. The Aussies progressing. Japan playing out of their skin. The human rights discourse drowned out by the glorious football.
I don't write about sport much.
But I had to get this down.
In the back of my head, the story was about one man only. La Pulga. But it wouldn't mean much if we'd gone out in the quarters. There would be no story. The resilient Dutch equalised in the 100th minute. 46m Argentines died and resurrected and died again. Messi's last World Cup game… it was unfathomable. The heavens had other ideas.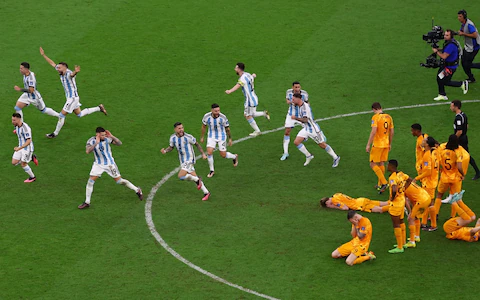 And again four days later in the semifinal, what I wanted to say would have no value if we'd lost. We were expected to. The Croatian midfield titans Modric Kovacic and Brozovic would neutralise Messi's genius, said the pundits.
Look what he did.
Took out the best defender in the competition, a twenty year old masked man-mountain called Gvardiol. Danced around him three times. Toyed with him. The Argentine coach Scaloni, who feels so much tension he can't manifest it physically and spends entire matches simply gurning, watched the third goal doing his best Stone Cold Steve Austin impression.
Watching him is hilarious. The release of tension when Lautaro Martinez scored the winning penalty against the Dutch was something else. Rather than celebrate with the team he just ran off down the tunnel in paroxysms of emotion.
Only the World Cup can do this.
So whatever happens on Sunday, I can write about the wee man with hope in my heart. Prophecy. The footballing Gods shining down on the greatest player the game has seen.
The dream is alive.
It has captured the imagination of the world. Everyone is an Argentina fan. All of South America is supporting them. We are the same people, solo la cordillera nos separa, screams a Chilean. Only the Andes separate us! Colombians, Uruguayans, Peruvians send their support. It is bringing out the poetry in everyone.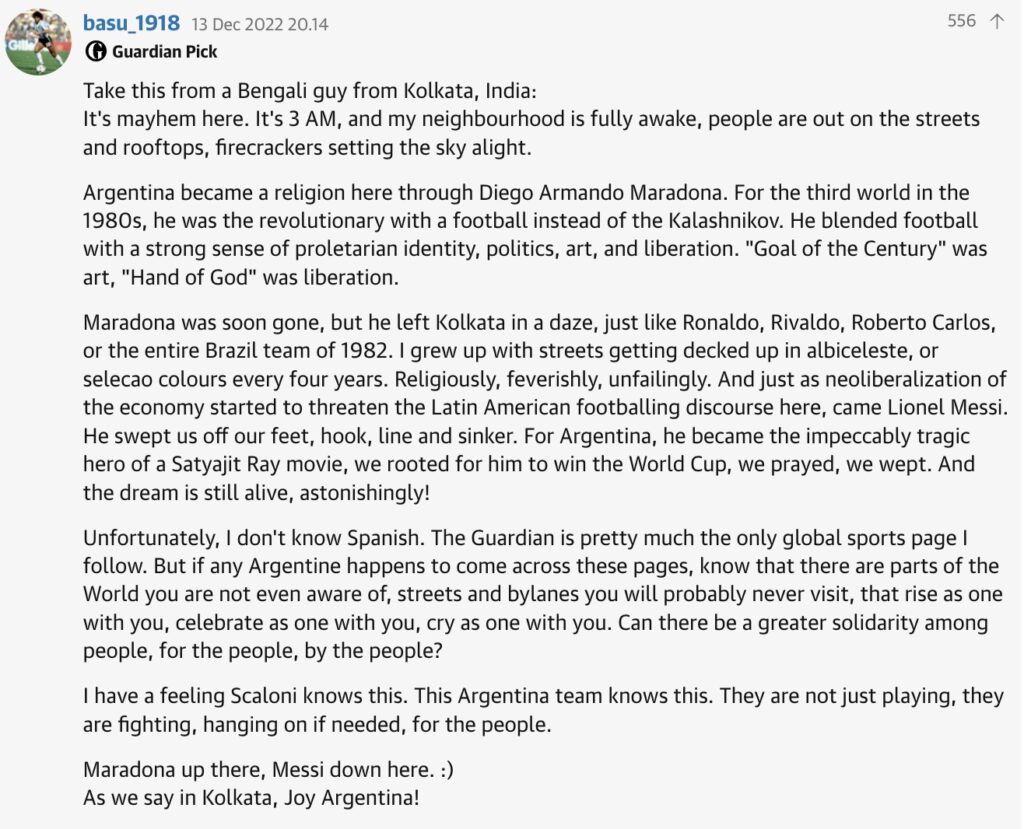 If any Argentine happens to come across these pages, know that there are parts of the World you are not even aware of, streets and bylanes you will probably never visit, that rise as one with you, celebrate as one with you, cry as one with you.
*
Francisco my cousin watches at home in BA in the heat with Balti and his friends, Dolores sulks in her bedroom. My couz grew up watching Maradona at La Bombonera. He was an artist, he explains. He painted masterpieces with a ball. But he was drugged from age 20. Who knows what he could've done sober. Pero sí, Messi is an alien. There's no doubt. Every time Argentina score, they run to the pool. They started in the group stages against Mexico.
Now it is tradition.
The kids will remember this month forever, I say. We're watching history. That's what makes the World Cup so spectacular. Someone missing a penalty, falling to the floor, in tears, we are watching a split-second they will rue the rest of their lives. There is no bigger collective human emotion on the planet than a World Cup. None. All this, from booting a pig's bladder into some netting.
Que.
After the semifinal, where el enano once again did extraterrestrial things with the ball, an Argentine journalist called Sofia Martinez interviewed him. Her last words formed no question, only a statement. It was wonderful, emotional, made tear ducts swell around the world, Messi was visibly moved.
It's not about even winning this thing anymore, she said. It's about the joy you've given us, all us Argentines, the whole of this last month. Every kid in this country. Nobody can take that away from you now.
Shall we talk about him.
He plays a different sport. To anyone, even perhaps to El Diego himself. He does things nobody has ever seen someone do with a football. And he's been doing it every three days for the last fifteen years.
Pep Guardiola, the greatest coach of the modern era, says he is on another level to anyone in history. As manager of Bayern, before a crucial Champions League semifinal, he was asked in a press conference how do you stop Messi. He answered quite seriously, with a humorous resignation.
You can't stop him, not in the form he's in. There is no defensive system that can stop him. There is no coach that knows how. No se le para. No se le para. Es demasiado bueno. Un talento de esa magnitud, no hay caso. There is no stopping him, simply no stopping him. He is too good. A talent of that magnitude, there is nothing you can do.
Lilian Thuram, a French great, who played for Barcelona alongside a 19 year old Messi, explained it further. Normally as a defender, he said, you wait for the attacking player to make the first move, to try to go by you, so you can react. But Messi shows you the ball, waits, waits, for you to make the first move, and when you do, because his feet are so quick, he simply takes it past you. So it is physically impossible to stop him.

Tevez says it was actually hard to play alongside him. He does things that are so unexpected you just gawp at them. He's running towards the goal, four opposing players swarm him, crowding him out, obviously I start running back knowing he'll lose the ball. He gets past them all. So now I'm suddenly out of position. Even amongst the elite, he is on another level. We play football, says Tevez, el juega a otra cosa. He plays a different game.
If you want to get lost down a wormhole, to really catch a glimpse of his genius, watch this. It's my favourite video of his. When he was young, before his so-called peak. Watching him dribble, it doesn't seem possible. The speed of it all.
Some say he is too metronomic. Doesn't show the cracked genius of Zizou. The poetry, the flawed antihero. But they said that about McCartney, he couldn't have been the genius, he was too nice, and yet the other three say he was the greatest of them all, without him none of it would've happened.
Messi isn't just Federer, Jordan, people who transcend their sport by showing you things you've never seen. At the risk of sounding like a twat I really think he is in the realm of Bach, Michelangelo, Shakespeare, the divine shining through this monosyllabic reserved 5'7 man from Rosario. He gets people out of their seats, holding their head in their hands.
Disbelieving.
His no-look assist against the Dutch, so freakish that Schweinsteiger, the ex-German pro, said he watched it in slow-motion 4 times from the birdseye camera, and still didn't see the pass.
Messi is the last person who understands his Godgiven talent. When his son Thiago asks him 'papa, why did they give you another Ballon d'Or', his 7th, Messi replies shyly, no sé? I dunno. With a timid shrug of the shoulders, the kind you'd give a girl at prep school asking why you sent her a Valentine. I dunno. The best player in the history of the sport, receiving the prize all players covet, still not understanding why.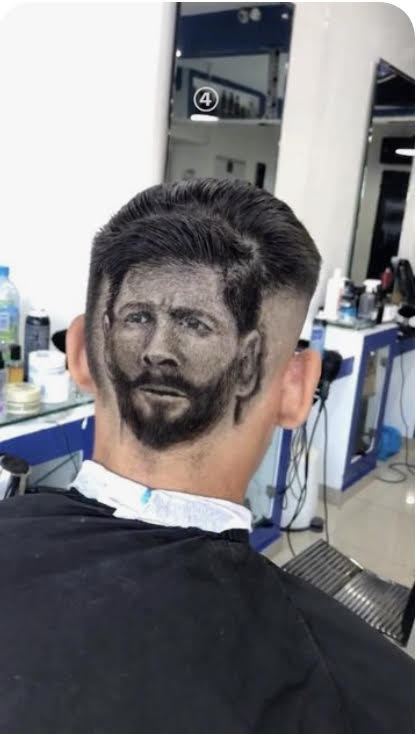 Messi has for years been in the shadow of God.
D10S.
El pibe de oro, the golden boy, el Diego, a warrior, a leader of men. Though their skillsets are freakishly comparable, both small, low-centre of gravity, wands for left feet, you'd never see La Pulga shouting sons of bitches to a global audience before a World Cup final. Wenger said it best. The difference is only this. Maradona was an extrovert, Messi an introvert.
This World Cup something changed. Messi has risen out of the ashes of his shyness, inspiring team talks, given the referees grief, talking trash to the bully. He is a leader now, all players look to him, many theorise he has been possessed by the spirit of Diego himself.
El Cholo Simeone, legendary coach of Atlético, a team-mate of Maradona, called it. Diego was everything, Diego gave us memories we will never forget, but there, in between the cracks, it is clear, Messi is better.
*
Right now in BA, it is so hot birds are falling out of trees. The whole place is at a standstill. No-one can talk about anything else. The streets are empty. Es una locura, says my cousin. A madness, this country has for football. A country at the ends of the earth, successive failed governments, corruption, hyper-inflation, rife with tension, passion, all united over this one sport they excel at. When I think of the World Cup, texts Alfie, the first thought that comes into my head is the Albiceleste. The famous strip of Argentina. Massive compliment, he says.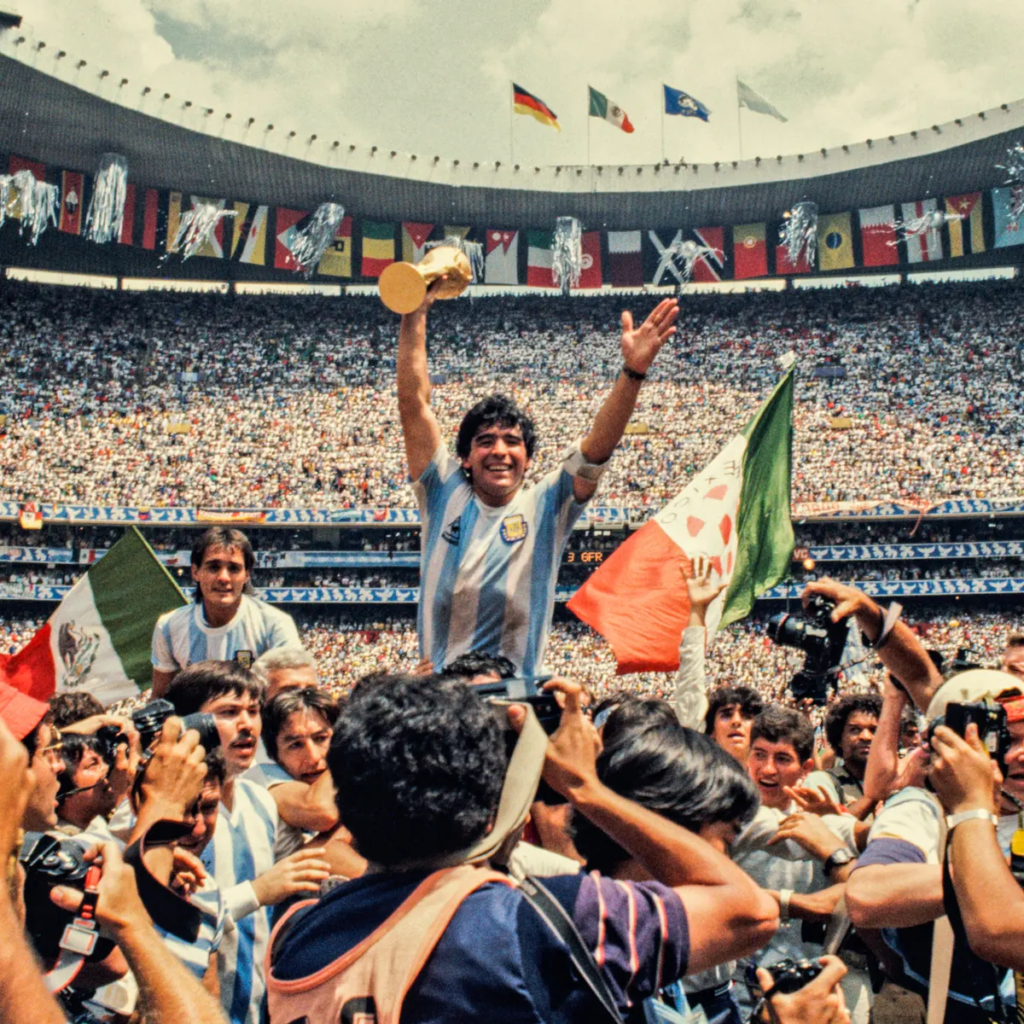 I should have gone.
I mean I'm flying out Wednesday anyway.
Why not change my flight. Get there in time. To see once more what I saw in blurred outlines as a three year old throwing loo-roll off a balcony into the streets below. To see collective emotion explode and take over a whole country. To watch La Pulga lift the most glorious prize of all. A month of street parties. My bro landed last night, he'll be there, for whatever might go down.
But I haven't been quite right for a month or so. I'm better now, but can't quite handle that much human energy, in 35 degree heat. I will watch it alone, or with a carefully chosen accomplice, from my sofa in Hackney. Try not to have a heart attack. Meet with triumph and disaster, do my best to treat them just the same.
Even if the stars don't align tomorrow, if it was not written in the way all of Argentina has been hoping, then fine. As Barney Ronay said in the Guardian recently, 'He doesn't need the World Cup. He's been the best player of all time for ten years already, it's not even close.'
There are no more words left, repeats Guardiola.
Just watch him.
*
2-1 Argentina, the security guard in M&S says. I narrow my eyes, Messi to score…
Yes. One.
We spud, I walk out into the piercing December air.
Does it matter. Yes. Does it really matter, not really. Just as the reporter said to him. You've already given us so much happiness, that's more important than any World Cup. Any trophy. More real.
Would be nice though.
*
POSTSCRIPT